Composites
In 1994 we were certified according to ISO 9001:1994 for "Equipment design and glass fiber processing"
Since 2011 TÜV-Hessen (Germany) has certified our quality and environmental management systems DIN EN ISO 9001:2008 and ISO 14001:2009 for:
" Development, production and sales of UV-curable inks, resins and coating materials for the processing of optical and composite glass fibres. Product design and development of products made of composite glass fibres such as Composite Pressure Cylinders. "
COIA's UV-Technology offers sustainable advantages for you and your applications / products such as: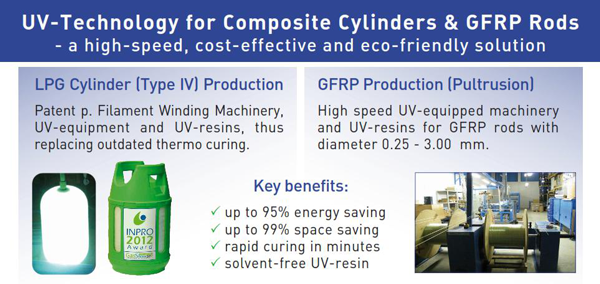 We have designed and developed several processing-systems, consisting of e.g. Pay-off, impregnation / upcoating , UV-system, Take-Up Winder, UV-resin such as for:
Colour coding and processing of Optical Fibres ( 5 - 1250 um thickness) up to 1500m/min
GFRP ( pultrusion ) Rods up to 3 mm diam and ribbons up to 200 m/min
Glass Fibre Composite LPG Cylinders , 1 cylinder/minute, winding and curing time
COIA - Composites In Action, it's not our slogan, it's our philosophy!
We believe, that you and your customers will profit from our know how and technology.
Now it's your turn to challenge us.
We are looking forward to hear from you soon.
Composites
What is the novelty of COIA's system?We have 25 years experience in manufacturing and processing...
In 1994 we were certified according to ISO 9001:1994 for "Equipment design and glass fiber...
Our new activity since 2010 is the development of a cost effective and eco-friendly LPG composite...
COIA Type IV LPG Composite Cylinder We conducted together with accredited partners in Germany and...
GFRP NMSM-Series fibre reinforced plastic, dia. 0.25 - 0.50...

Contact us
COIA GmbH
Hasenhägweg 73
D-63741 Aschaffenburg
Fon: +49 (0)6021 - 3487 - 0
Mail: info@coia.de

Member of WLPGA
The World LP Gas Association (WLPGA) is the authoritive voice of the global LP Gas industry representing the full LP Gas value chain.

High Quality Standards
Our UV-curable materials are environmental friendly and do comply with RoHS 2011/65/EU (former 2002/95/EG) regulation and are free of Silicone, Halogen and Solvents / VOC's.