Ultralight Green LPG Composite Cylinder
Our new activity since 2010 is the development of a cost effective and eco-friendly LPG composite cylinder (TYPE IV) manufacturing line through replacing outdated thermal curing systems with futureproof UV-technology (international patents pending).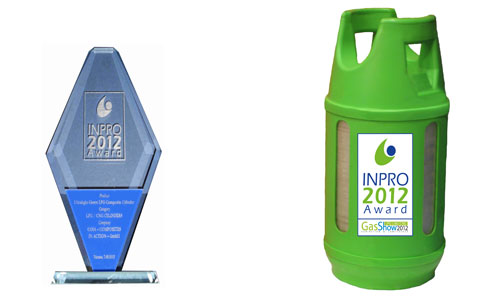 Composite LPG cylinders Type IV, consisting of glass fibre reinforced plastic liner (patent p.), boss (patent p.), pressure valve and plastic casing offer a lot of advantages in comparison with steel cylinders:
Maximum Safety
No explosion risk under fire or bullet shot, suitable for domestic, leisure or industrial use
Designed to meet European and international standards
No rust
Comfort
Gas level is always visible thanks to translucent properties
Convenient handling stacking and cleaning due to ergonomic design
Modern, customizable design with attractive branding opportunities on the cylinder casing
Lightweight *
Up to 70% weight reduction with same tank capacity
Environmental friendly
Recyclable
Reduced logistics and maintinance costs *
All these properties together with the attractive and modern design assure LPG composite cylinders a great worldwide market acceptance and potential.
Composite LPG cylinders (thermally cured) are already successfully used in many countries.
COIA provides 1st LPG Composite Cylinders Manufacturing Plant to the UAE
The United Arab Emirates will soon have their first manufacturing plant for LPG composite cylinders. COIA Germany has just closed a deal with AL AMAN Gas Cylinders Manufacturing LLC, Sharjah for a turn-key project to produce a total of 1 Mio. cylinders/year and will supply design, technology, state-of-the-art machines, raw materials and equipment.
Composites
What is the novelty of COIA's system?We have 25 years experience in manufacturing and processing...
In 1994 we were certified according to ISO 9001:1994 for "Equipment design and glass fiber...
Our new activity since 2010 is the development of a cost effective and eco-friendly LPG composite...
COIA Type IV LPG Composite Cylinder We conducted together with accredited partners in Germany and...
GFRP NMSM-Series fibre reinforced plastic, dia. 0.25 - 0.50...

Contact us
COIA GmbH
Hasenhägweg 73
D-63741 Aschaffenburg
Fon: +49 (0)6021 - 3487 - 0
Mail: info@coia.de

Member of WLPGA
The World LP Gas Association (WLPGA) is the authoritive voice of the global LP Gas industry representing the full LP Gas value chain.

High Quality Standards
Our UV-curable materials are environmental friendly and do comply with RoHS 2011/65/EU (former 2002/95/EG) regulation and are free of Silicone, Halogen and Solvents / VOC's.